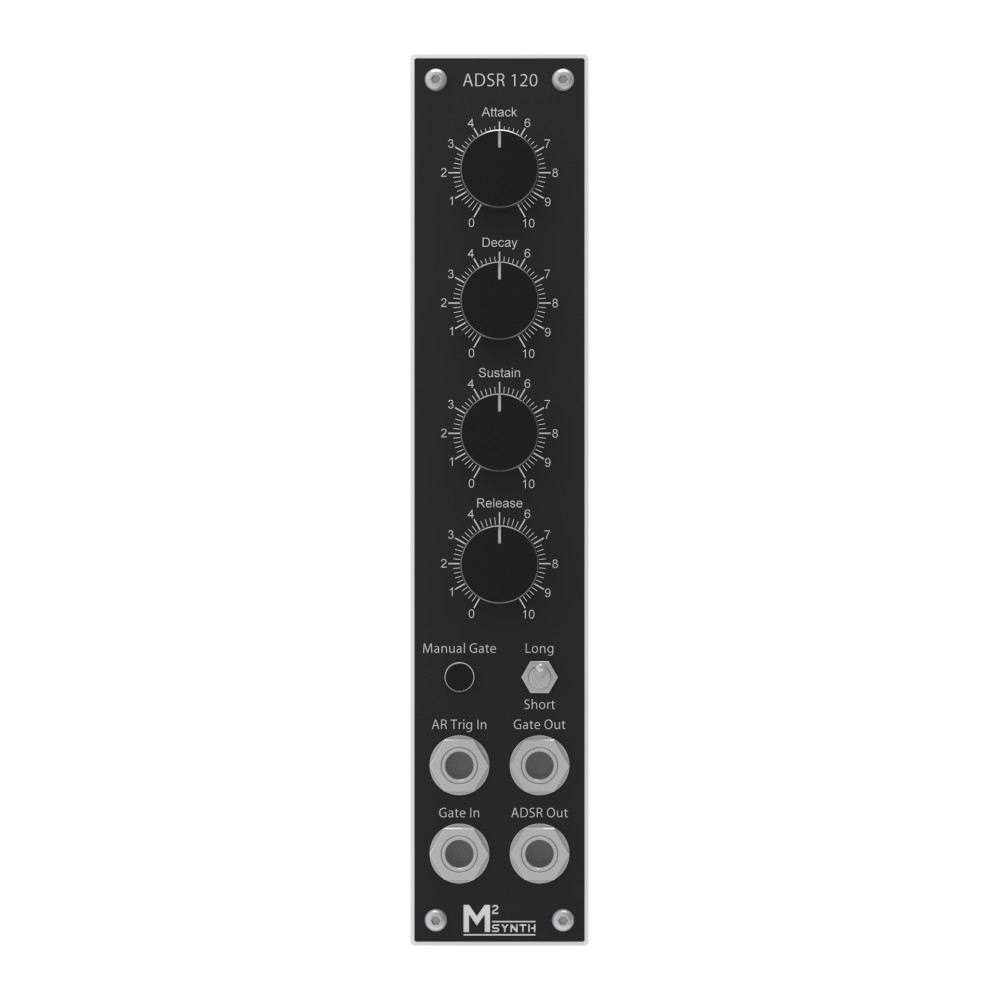 Module 120 - Envelope Generator ADSR
The ADSR 120 is one of the core modules essential to an analogue synth. Most frequently used to control a VCA but equally used to control the cut-off of a VCF. Larger systems can expect to have the need for many ADSR modules. In addition to the ADSR 120, a voltage controlled version, the VC ADSR 121 allows for dynamic changing of the ADSR values from external control sources.
Features
Controls for Attack, Decay and Release envelope phases along with the Sustain level

Time range selection switch x1 / x10

Gate input for full ADSR output

Manual gate button

LED indicator of gate pulse

AR Trig input for full AR envelope from a trigger pulse

The AR Trig input can also be used for re-triggering the attack / decay phases whilst the gate input is active

Gate output for cascading ADSR modules. Gate pulse width equal to the attack, decay and sustain periods (just the attack period when in AR trig mode).
Specification
Supply voltage +/-12Vdc

Supply current +20mA / -23mA

Output level 0-10V

Typical delay times



Short Time Mode
Min
50%
Max
Attack
3mS
12mS
1S
Decay
6mS
35mS
3S
Release
7mS
40mS
3S
ADSR
16mS
90mS
7S
Long Time Mode
Min
50%
Max
Attack
30mS
120mS
12S
Decay
60mS
350mS
25S
Release
70mS
400mS
30S
ADSR
160mS
900mS
57S



Available to order, dispatched in 3-4 weeks